Limits of Mustard Infinity yearns to find meaning in the universe by exploring the core of existence—earth's, society's, the individual's—through snippets of vivid imagery and deep thought. What's especially unique about Elizabeth Adan's writing is her unconventional use of language. Her ability to combine two distinct and completely different elements of life on earth to create an image, set a scene, or make a point creates poems that are stark and incomparable, such as in the following poem where Adan combines oceanic, cosmic, and earthly imagery with the digital realm to describe the experience of our place on earth (though it could also describe the writing/creative process):
"i am placed in wet waters
encoded in the silver moon
every ocean is deep with memories
against the backdrop of arid soil
represents the absolute of the unknown"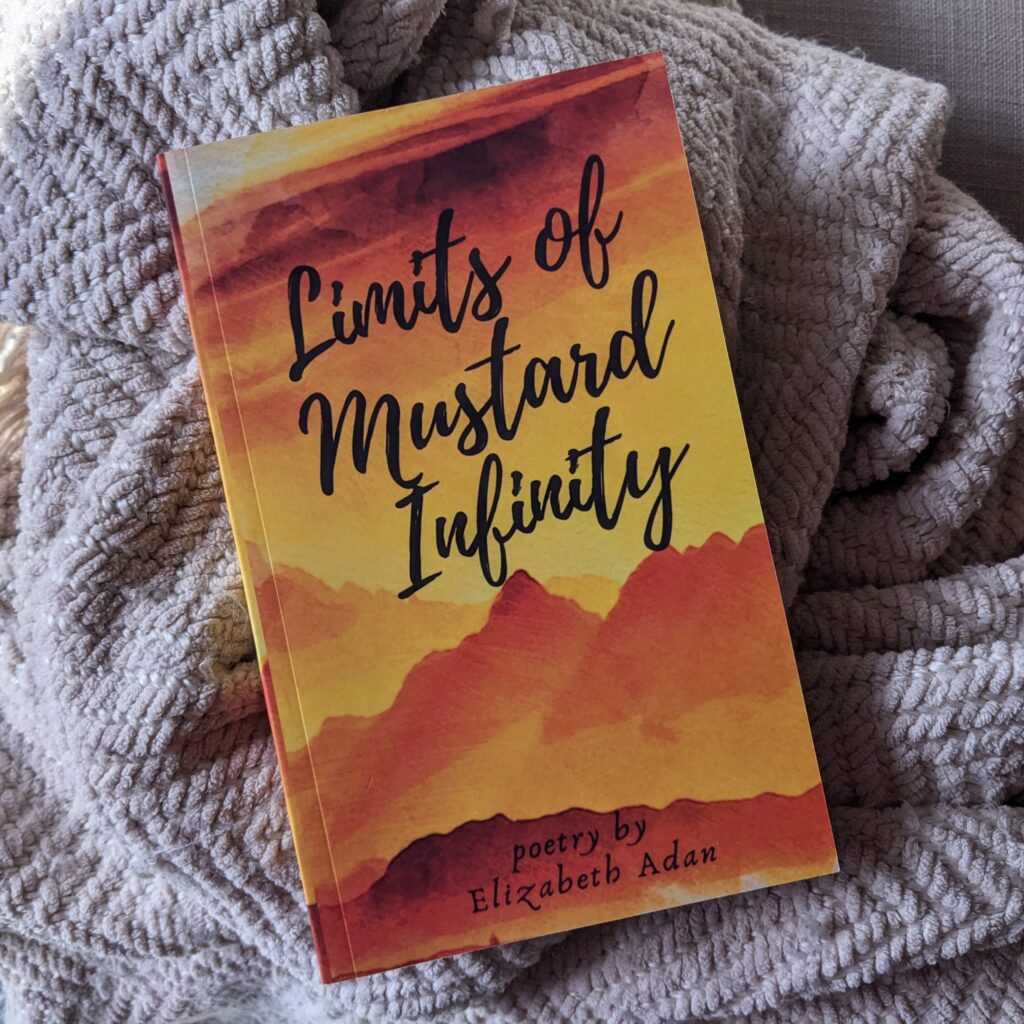 I was especially intrigued by the second section of the book, "The Sweet Talk of Evil," as Adan finds that leaving the natural world to explore the inner world ultimately leads back to everything outside of us. She emphasizes how it is important to go inward ("I pause and twist toward the center / I feel pierced with planted expectation / I am now learning of isolation"), to know inner love but to retrace our steps back to the world around us so as not to trap ourselves in "the chaos of isolation" and forget to pour love into earth and community.
The third section, "Exotic Darkness," solidifies this collection as a colorful mosaic of dreamscapes, striking imagery that is both earthly and other-worldly, and our connection to ourselves, each other, and earth.
"rivers showed me rainbows
twisted stars and colors
outstretched to call to me
it is the wonders
that rise above in all directions
that follow me
( (  b r e a t h l e s s  ) )
until I unfold
( (  i n t o   i n f i n i t y  ) )
it seems to me
royalty resides
in the tender touch of sacred weather"
"pink colors
circle around us all
the granite grey sky
gives a whisper
I follow the bells
to the deepest canyon
and we like in a circle and rise"
Adan continues this idea of interconnectedness in "One Layer At a Time," both how we connect to one another and the universe:
"messages alone
address the blessings of collision
patterns are the only way to function
codes known as symbols
as the system switches
and scrambles words
into pictures of the human experience"
and to our past and future selves, through experience, choices, and interactions with others:
"you are stunning me
with all these ways forward
the scars of love
are angry and honest and marvelous
penetrating all the options of the future
and exploiting me for a very long time"
Adan's exploration of existence and connection culminates in the final section, "The Moon Grows Inside Your Bones." Here, Adan emphasizes the beauty that can flourish—in nature, within ourselves, between one another—if we acknowledge that our "bones support the weight / of ancient private memories" and accept our responsibility as a community to each other and the earth:
"we are living side by side
we are traveling parallel
as we meet
under the music of the full moon
the idea of responsibility to another
is the same way i feel for you
do you hear your future freedom
each time we embrace
the entire earth together?"
Limits of Mustard Infinity is a book that can be read in one sitting or over time, as each poem offers an idea to be further picked apart and explored. And though each poem is micro-poem short, like a single cell, each is brimming with an intricacy that will give you pause as you dissect its inner workings and meanings.